Aloha, Learners! Setelah minggu lalu kita bahas tentang Reduced Adjective Clause, kali ini kita akan membahas tentang Reduced Adverb Clause, nih!
Review lagi yuk tentang reduced clause secara general. Reduced clause adalah klausa Bahasa Inggris yang tidak lagi mempunyai subjek dan predikat sehingga berubah menjadi frasa.
Reduced Adverb Clauses
Khusus untuk reduced adverb clause, kita harus tau bahwa tidak semua adverb clause dapat di-reduced. Jadi, reduced adverb clause dibagi menjadi tiga jenis:
Reduced Adverb Clause of Time
Untuk jenis adverb clause of time yang memiliki subordinate conjunction seperti before, after, since, atau while, maka subject setelah conjunction dihilangkan, lalu verb nya diganti menjadi bentuk verb-ing.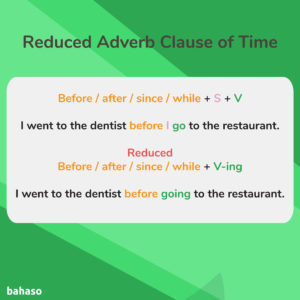 Reduced Adverb Clause of Cause
Kalau di adverb clause of cause, conjunction yang dimiliki adalah as, because, dan since. Nah, yang dihilangkan dalam kasus ini adalah conjunctionnya beserta subject, lalu verb nya diganti menjadi bentuk verb-ing.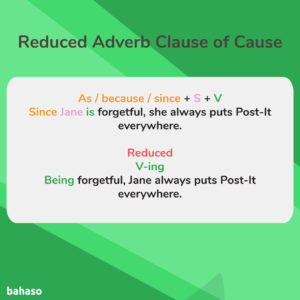 Tapi clause nya tidak dapat di-reduced jika memiliki subject yang berbeda. Seperti ini:
She doesn't want to talk to you because you knew about it.
Reduced Adverb Clause of Contrast
Jenis yang ketiga adalah adverb clause of contrast, yaitu kalimat yang memiliki although, though, dan while lalu diikuti oleh verb. Jika verb nya selain to be (is, am, are, was, were), maka kalimatnya di-reduced dengan cara menghapus subject dan mengganti verb menjadi verb-ing.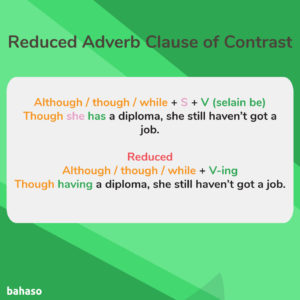 Tapi, jika kalimatnya memiliki verb be, maka kalimatnya di-reduced dengan cara menghilangkan subject dan verb be tapi subject complement (noun/adjective) setelah to be tidak berubah.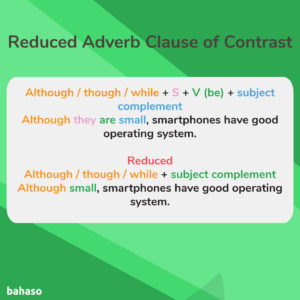 Yuk berlatih bahasa asing online di bahaso.com! Gratis 3 lesson pertama!!
Ikuti kelas tutoring online IELTS dan TOEFL di bahaso.com/class
Dan latih skill conversation Bahasa Inggris kamu di Bahaso
Diskon sepanjang tahun!