Aloha, Learners! Minggu ini, Idiom of The Week dari Bahaso adalah Brown Nosing. Apa ya kira-kira arti dari idiom ini? Scroll untuk tau lebih lanjut, ya!
Kalian pernah mendengar idiom ini kah, Learners? Apa yang ada di pikiran kalian ketika mendengar idiom ini? Hidung coklat? Pasti aneh ya. Tenang, kita akan kasih tau kamu apa arti idiom ini sebenarnya.
Mengutip dari Cambridge Dictionary, brown-nose artinya:
"To try too hard to please someone, especially someone in a position of authority, in a way that other people find unpleasant,"
seseorang yang berusaha keras untuk membuat orang lain senang demi mendapatkan apa yang mereka inginkan. Singkatnya, brown-nose berarti "menjilat" seseorang yang biasanya posisinya lebih tinggi dari kita, contohnya seorang karyawan yang brown-nosing bos nya.
Contoh penggunaan idiom ini sebagai berikut: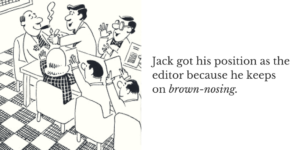 Memuji seseorang sebenarnya sah-sah saja, karena bisa jadi orang tersebut memang murni hanya ingin memuji dan tidak mengharapkan balasan. Tetapi jika niat kamu memuji seseorang untuk mendapatkan balasan atau brown-nosing, seperti ingin kenaikan pangkat, maka lebih baik jangan lakukan itu ya, Learners. Raihlah sesuatu dengan prestasi dan kejujuran.
Yuk Berlatih bahasa asing online di bahaso.com Gaya Zaman NOW! (Gratis 3 lesson pertama) 
Dan ikuti kelas tutoring online IELTS dan TOEFL di bahaso.com/class
Diskon sepanjang tahun!