Ciao, Learners! Setelah sebelumnya kita telah membahas tentang shopping dan go phrasal verbs, pada kesempatan kali ini kita akan membahas phrasal verbs yang berhubungan dengan makanan.

Boil away
Boil away berarti merebus suatu cairan sampai dia menguap.
Contohnya: Set the heat to low, you don't want all the water to boil away.
Cut off
Phrasal verbs ini mempunyai arti untuk menyingkirkan sesuatu dengan cara memotongnya.
Contohnya: I need to cut off the fat from the meat before grilling it.
Eat out
Mungkin Learners sering mendengar phrasal verb ini, artinya makan di luar rumah seperti di restoran atau kedai.
Contohnya: Mom says she wants all of us to eat out tonight.
Eat up
Berbeda jauh dengan eat out, eat up mempunyai arti untuk menghabiskan seluruh makanan tanpa sisa.
Contohnya: I have cooked a very special breakfast, so eat up.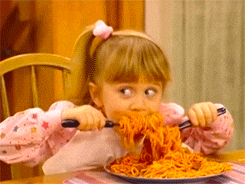 Fry up
Jika kamu sedang terburu-buru dan ingin memasak yang cepat dengan menggoreng, kamu bisa menggunakan phrasal verb ini.
Contohnya: Can you fry up some sausages and eggs? I'm in a hurry.
Itu dia beberapa phrasal verbs tentang makanan yang bisa kalian pakai untuk percakapan sehari-hari ya, Learners.

Yuk Berlatih bahasa asing online di bahaso.com Gaya Zaman NOW! (Gratis 3 lesson pertama)
Dan ikuti kelas tutoring online IELTS dan TOEFL di bahaso.com/class
Diskon sepanjang tahun!